The Main Lesson
The Class Teacher takes the Main Lesson, a two hour lesson first thing every morning in which subjects such as writing and reading, maths, geography, history and sciences are taught individually in three or four week blocks. In this way, each topic can be entered into deeply and thoroughly for that time and, through continuity, the children can form a strong connection with their work. The Main Lesson is carefully and rhythmically structured so that the children have to listen, work independently, participate and think at different times and also so that their artistic and imaginative nature is developed; Main Lessons often involve singing, music, recitation, movement, painting and stories as well as writing and drawing.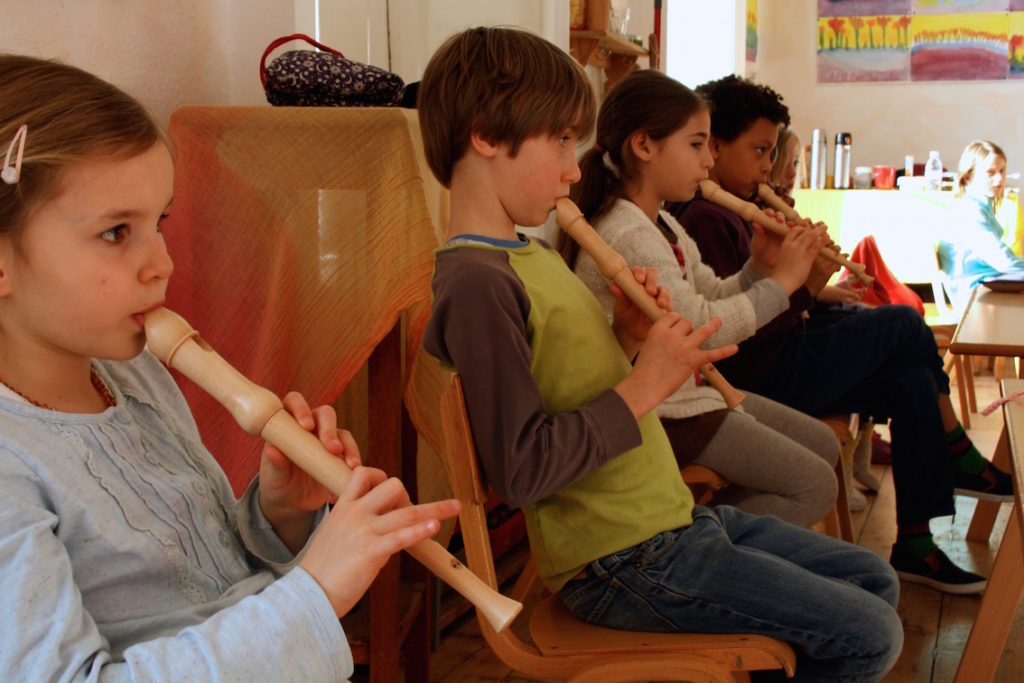 The main lesson curriculum for classes 1 – 8
Class 1
Blocks: English, Maths, Home Surroundings.
Letters and numbers are introduced through stories and pictures. Classic Fairy Tales are told. Form Drawing leads to writing of capitals and then lower case letters. Reading develops from writing. In maths, the quality of numbers (what do we find in fours? What is there only one of? etc.) and the four processes (+ – ÷ x) are introduced and worked with. The Home Surroundings blocks use stories about things the children can see around them both in nature and the built environment to arouse their awareness of and interest in the world. This lays the foundations for History, Geography and Science. In Class 1 the focus is on the plant world.
Class 2
Blocks: English, Maths, Home Surroundings.
Development and practice of writing and reading continues. Cursive writing is introduced if not in Class 1. The children begin to compose their own texts from stories. In maths we continue to work with the four processes with larger numbers. Place value and 'columns' are introduced. Times tables are learned by heart. Home Surroundings continues with animal stories, especially fables, and stories about the lives of Saints as a contrast.
Class 3
Blocks: English, Maths, Farming, Building, Old Testament Stories.
Development and practice of writing and reading continues. Sentence structure, types of words (verb, adjective, noun etc.) are looked at. Number work continues as above. Measurement is introduced – time, linear, volume and weight. Money. Home Surroundings takes the form of farming and building. We visit a farm and stay for three or four days. Study of different forms of shelter including a building project. Old Testament stories are told as a history of the Hebrew people.
Class 4
Blocks: English, Maths, Local Geography, Norse Mythology, 'Man and Animal'
Development and practice of writing and reading continues. We look at parts of speech and verb tenses. In maths, Long Division, Fractions and sometimes Decimals. 'Man and Animal' is a study of the human being in relation to the animal world, especially the way animals' bodies have developed for specific tasks. In Local Geography we look at the land around the school, its use and history. Norse mythology gives another picture of the Creation.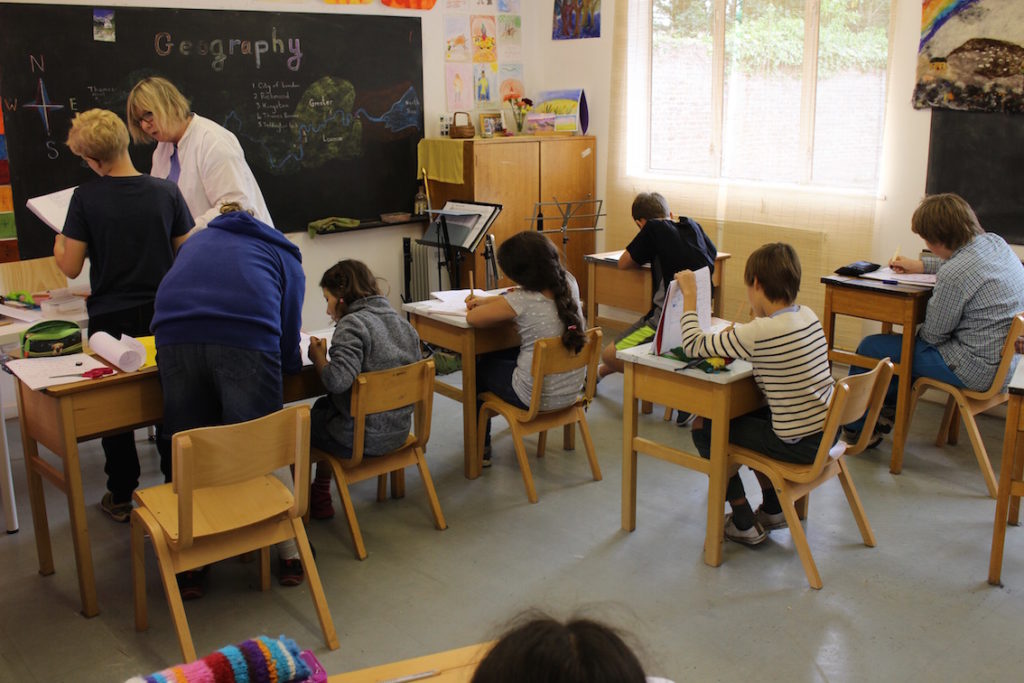 Class 5
Blocks: English, Maths, British Geography, Mythology of Ancient Cultures, Botany.
English and maths continue as above. Geography expands to the British isles. Mythology of Ancient India, Chaldea, Persia, Mesapotamia, Egypt and Greece, culminating in the 'Greek Olympics' in the summer term. Plants are studied in their environment.
Class 6
Blocks: English, Maths, Geometry, European Geography, Roman and early Medieval European History, Physics, Mineralogy, Astronomy.
In English, grammar, composition and spelling continue. Subjunctive and conditional clauses, letter writing and other business forms (CV etc.) In maths, percentages, discount, VAT, interest. Practice of Fractions and Decimals. Geometry of circles and regular figures. Geography of Europe goes hand in hand with the expansion of the Roman empire and the meeting of very different cultures in the Crusades. Astronomy is 'earth-centred' and observes the sky as Medieval man would have done. Mineralogy. Physics begins with how we experience Sound, Light and Heat.
Class 7
Blocks: English, Maths, Geometry, Geography of Asia, Africa and Australia, The Discoverers, Renaissance and Reformation, Physics, Chemistry, 'Man and his environment', Astronomy.
In English, composition, expression of personal experiences. In maths, Algebra, Powers, Roots. The great expansion of Man's consciousness in the 15th and 16th centuries. As the Discoverers venture east, beyond Europe, Geography moves to new continents. Heliocentric Astronomy, Copernicus, Galileo and the revolution in how we see the universe. Physics continues with mechanics. Chemistry starts with Combustion, acids and bases. 'Man and his environment' looks at the food we eat, the air we breathe, the things we do and how all of these affect our health and wellbeing. First Aid.
Class 8
Blocks: English, Maths, Geometry, Geography of America, History: Revolutions, Physics, Chemistry, Physiology.
English: drama and poetry, metre and rhyme. A play. Maths: simultaneous equations, area and volume, Platonic solids, Loci. Chemistry of food, domestic and industrial petro-chemicals. History of Revolutions – French, American and Industrial, First and Second World Wars leading up to the present. World Geography. Study of the human skeleton, nervous system and rhythmic systems.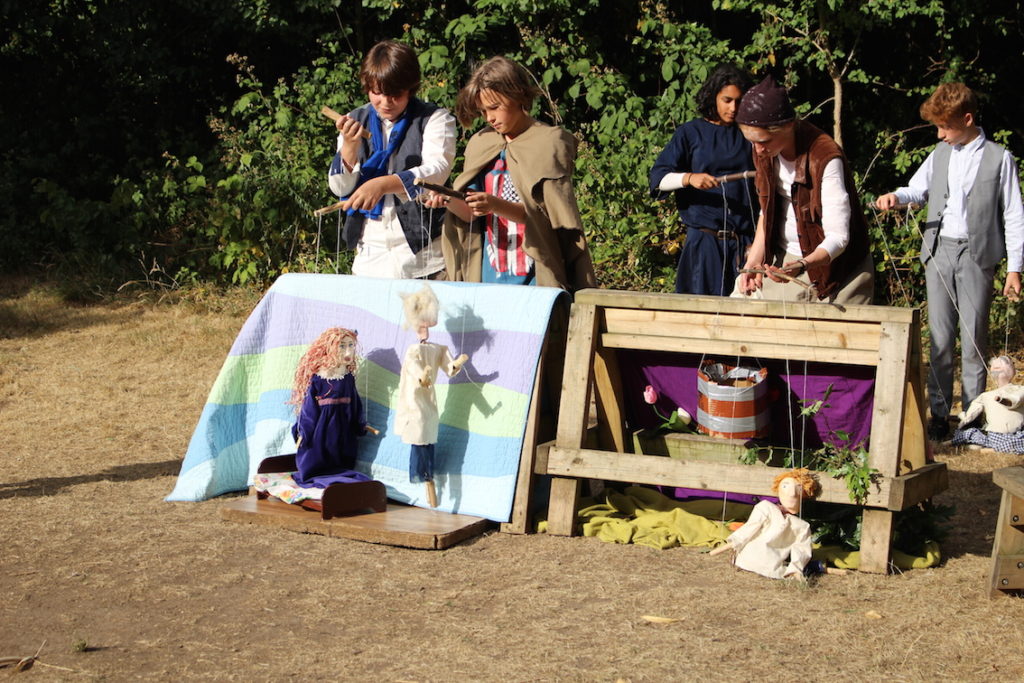 High school main lessons
Main Lessons continue in the High School with specialist teachers. See the High School page for more information.