Subject lessons
Separate subject lessons in Eurythmy, games, music, knitting, painting, wax modelling, form drawing, foreign languages and religion are taught from Class 1 onwards, sometimes by the Class Teacher and sometimes by specialist teachers. We try to timetable the more intellectual subject lessons in the morning after the Main Lesson wherever possible, with artistic and practical ones in the afternoon.
Other subjects, such as crochet, sewing, clay modelling, woodwork, gardening and gym, are introduced later, each at an appropriate age to meet the developmental needs of the children.
"It will always be a question of finding out what the development of the child demands at each age of life. For this we need real observation and knowledge of Man. The child up to the ninth or tenth year is really demanding that the whole world of external nature shall be made alive, because he does not yet see himself as separate from it. In the form of stories, descriptions and pictorial representations of all kinds, we give the child in an artistic form what he himself finds in his own soul." RUDOLF STEINER
EURYTHMY
Eurythmy is an artistic form of movement which relates both to speech and to music; different movements correspond to different sounds or notes so that the sound becomes visible. Eurythmy lessons are given throughout the school. Eurythmy can also be given as a therapy and helps with many things from orientation and balance to poor eyesight.
GAMES
Learning through movement is an integral part of the developing child.  From the wildly waving limbs of the infant to the skilful accuracy of the adolescent, movement evolves together with the maturing child.  In the earlier years of the lower school, movement forms part of the daily rhythm of the main lessons through rope skipping, balancing, throwing and catching bean bags, running, hopping, skipping, and stepping.  A more formal games lesson begins by class three which may include some traditional games such as hopscotch as well as a variety of chasing games in which the developing awareness of the child is now able to encompass the differing roles of being 'it' and being among those who are chased.  It is possible to work with the strong element of social education within such games as an opportunity to resolve difficulties between children within a class.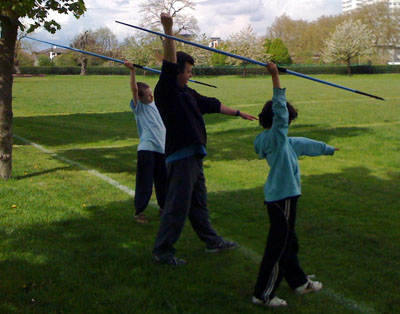 The games then become more complex to include multiple chasers, rescuing those who have been caught, those caught becoming the new chasers, and so on.  In class five, one of the highlights is the 'Greek Olympics' held at Michael Hall School in Sussex in which class five children from all of the UK Steiner schools gather for several days of training in the classic events: running, jumping, wrestling, javelin, and discus, before culminating in an Olympic day.
As the children grow, their limbs become stronger and more agile and their spatial awareness gradually expands to be able to include the whole playing area and the position of fellow team members.  Around the age of ten, pre-sport games are played to support these developing abilities.  Sport then begins around age twelve with hockey, tennis, badminton, basketball, rugby, or cricket, for example.
Bothmer gymnastics, a series of movement exercises developed to support the changing inner consciousness and the outer spatial awareness forms part of the lessons from class three onwards.
FOREIGN LANGUAGES
The children learn two foreign languages – German and French – from Class 1 onwards. In the first three classes, each language is taught orally, mainly through rhymes, songs, games, drama and simple conversation, very much as the Mother Tongue is learned. Writing and reading in foreign languages begins in Class 4 (sometimes Class 3) and a closer study of grammar, spelling etc. follows as the pupils get older.
RELIGION
A study of the creation stories of ancient cultures and the development of the major world religions is undertaken in the History Main Lessons from Class 3 to Class 8. The Religion lessons deal more with the question of what it means to be human. We tell stories that speak directly to the children's own developmental stage about the things they are experiencing. In Class 1, we tell fairy tales, in Class 2 perhaps stories about princes or knights who go on quests or fight dragons, in Class 4, stories about children having their first experience of independence or loneliness, in Class 6 or 7, biographies of great personalities such as Helen Keller
or Jacques Luceyran, who overcame hardship or disability to achieve something in the world. In this way, the children can see their own thoughts and feelings reflected in the common human experience.
CRAFTS
In Steiner Waldorf schools, the children learn to make things with their hands from Kindergarten right through the school. Skills taught include knitting, crochet and sewing as well as clay modelling and woodwork. Practical skills are valued for themselves, and the children love making things, but we also believe it is important that they know how the things they use are made. When they put on a sweater or pick up a wooden spoon, they have an idea of how much work went into it and can feel respect for the people who made it.
MUSIC
Music, especially singing, is a daily part of school life but the children also have a dedicated music lesson once or twice a week. They learn to play the Pentatonic flute from Class 1 and the Diatonic flute or Recorder is usually introduced in Class 3. Musical notation is also taught from Class 3 and at this age, many of the children have individual instrument lessons. From Class 5 upwards there are weekly choir lessons.
FORM DRAWING
Form Drawing is a kind of freehand geometry which begins in Class 1. Through the moving and drawing of a variety of forms, the children's sense of balance, orientation, harmony and movement are developed as well as gross and fine motor skills. Form Drawing can help in the diagnosis of learning difficulties and as a therapy.
GARDENING
The children plant bulbs and seeds from Kindergarten and have gardening lessons from Class 3. In Class 3 they study farming and in Class 5, Botany
MODELLING
The children model with beeswax in Kindergarten and usually begin to work with clay from Class 1 or 2. Modern children are often overly dependent on sight and we work to develop the other senses as well. Modelling helps to develop the sense of touch. We start with simple forms such as a sphere or an egg, convex and concave forms, transforming them into animals and human figures as the children get older.
ART
Throughout the school, drawing and painting, for its own sake as well as to illustrate and augment book work, is an integral part of almost every lesson. In Class 1, the children paint on wet paper with liquid colour, usually just the three primary colours.. The teacher tells a short 'colour story', for example, 'Red and yellow went out to play together and yellow ran off, so red went after her wherever she went.' The story does not invite the children to paint any form and the colours flow together so that they have an experience of colour, rather than drawing with paint. Gradually, they begin to paint simple forms from the Main Lesson and start to learn techniques which they build on as they get older. Drawing is also developed, using an increasingly wide range of media, including pastels, charcoal, pencil and graphite.
SUBJECT LESSONS IN THE HIGH SCHOOL
More information about the structure of the High School curriculum and timetable can be found on the High School page.